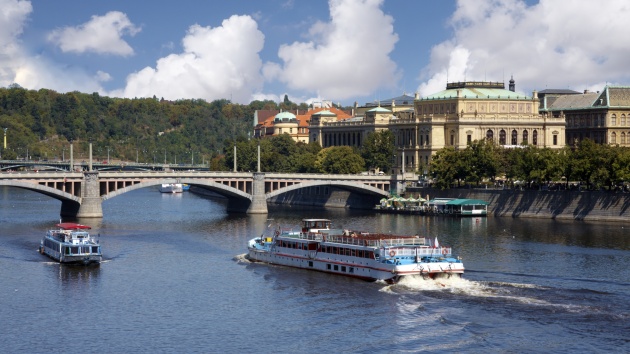 Mánes Bridge is the ninth in Prague and was built on the site of the historic ferry to the fishing village, which later became an iron suspension pedestrian bridge that connected the Old Town and the Lesser Town Klárov.
Manes Bridge is concrete. It was opened in 1914, but not fully completed until 1916. Its designers were an engineer František Mencl, who also designed Jirásek Bridge, and Alois Nový. The length of 186 meters is divided into four segmental arches. It is 16 meters long and it can accommodate trams, cars and sidewalks for pedestrians. The bridge underwent reconstruction in 1992 - 1994.
The artistic style of the bridge belongs to the Czech cubist as well as modern movement. It is decorated with figural friezes with motifs from the lives of the Vltava swimmers. The name of the bridge, as the names of numerous other Prague bridge, was subject to political changes. It was named after the famous Czech painter Josef Mánes, the author of painting decoration of the Astronomical Clock.
Interesting fact:
Since 2009, brass stars have been popping up on the bridge to create a Walk of Fame –  a tribute to Czech composers.