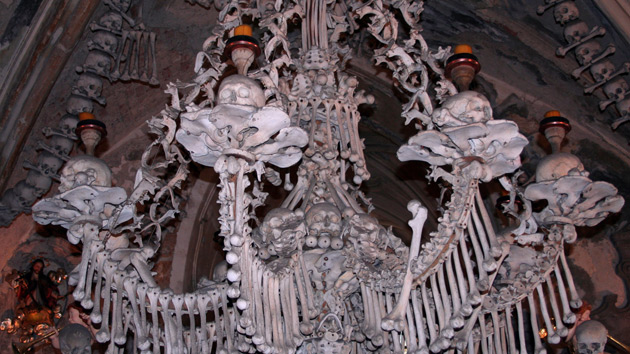 Located approximately 60 kilometres from Prague, the picturesque town is famous for its original historic core, which takes visitors back to the days of medieval mining and silver minting.
The Prague groschen coin was produced in the town in the 14th and 15th centuries, when Kutná Hora was the second richest town in the Kingdom of Bohemia, resulting in the construction of many famous and unique monuments. Since 1995, it has been on the UNESCO World Heritage List.
The tour includes a visit to the medieval silver mine and the Czech Museum of Silver, as well as the renowned Gothic St Barbara's Cathedral and the Italian Court – the former Royal Mint. We'll also see an array of Gothic, Renaissance and Baroque townhouses. You'll also see the Gothic fountain and St James Church.
After lunch at a local restaurant, you'll visit the Ossuary in nearby Sedlec. The decoration of the chapel is composed of more than 40,000 human bones, arranged in the form of Schwarzenberg coat of arms and other patterns.
Transportation: By coach and on foot
Info:The price includes coach, guide and admission.