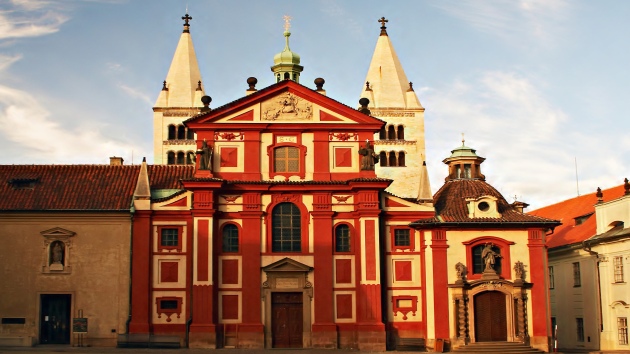 St George's Convent is adjacent to the Basilica of St George and is located at Prague Castle in St George's Square.
It is a former Benedictine monastery, which with its founding in 973 became the oldest Czech monastery. It was founded by Prince Boleslav II with his sister Mlada, who thus became its first abbess. Along with the monastery an episcopate was also founded in Prague in the same year, to which Mlada also brought agreement from the Pope of Rome. Later the Abbess Mlada was buried here along with other members of the Přemyslid dynasty. In the 13th century an important scriptorium was established in the monastery.
It is an early Romanesque building, one of the most important in Prague. It consists of two-storey buildings surrounding two paradise courtyards. The convent's current appearance is largely the result of a 12th century reconstruction during which the original ground floor was raised one floor higher and the chapel of the Virgin Mary was extended.
Another major reconstruction came in the years 1657 – 1680 in the early Baroque style. During the Josephine reforms the convent was closed and used partly as a home for priests, partly as a barracks. After reconstruction and modifications between 1964 and 1975, the convent began to be used for exhibitions of the National Gallery.
Interesting fact:
St George's Convent was founded by the monarch, which gave it a privileged position among the other monasteries. On the one hand, it meant royal protection and privilege, but on the other more oversight and less independence. Therefore, the abbesses of St. George's Convent were often members of the ruling dynasty.