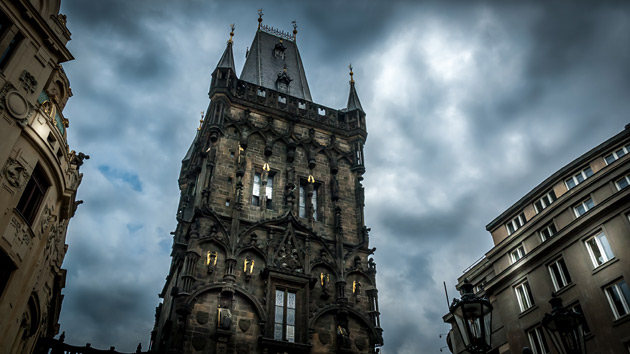 The Powder Tower is located in the Old Town or on the border with the New Town. It is ranked among the most striking late Gothic monuments in Prague. It was built at the site of the dilapidated Mountain Gates, aptly nicknamed "Odraná" (meaning ramshackle). The Powder Tower was one of the main entrances to the city and the place through which the coronation processions of Czech kings passed, and thus the start of the Royal Way.
The construction of the Powder Tower began in 1475 and since 1478 was led by Matěj Rejsek. The tower lost its importance after the founding of the New Town and after the relocation of the royal residence from the Royal Court to the Castle. From 1488 the gate remained unfinished. Construction work resumed only in 1592. It was given the name Powder in the 18th century, when it served as a gunpowder store.
Today's appearance of the tower is the work of reconstruction and repair in pseudo-Gothic style in the last third of the 19th century. Contributions were made by architect Josef Mocker, sculptor Bohuslav Schnirch and others.
The Powder Tower thus regained rich decoration, previously damaged. We can find statues of Přemysl Otakar II and Charles IV and on the other side George of Poděbrady and Vladislav II. Above them, in a kind of celestial sphere, are statues of Czech patrons and saints with Christ in the middle and many others. On the side adjacent to the Municipal House we find Gothic sculptural decorations that portray shocking scenes. From the side of the Municipal House is the bay, serving previously as a water closet. The building has a slate roof.
Interesting fact:
The Powder Tower in numbers: height 65 metres, observation gallery 44 metres high, the spiral staircase has 186 steps.