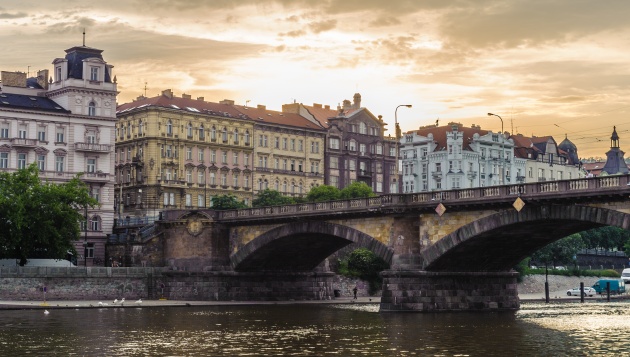 Palacký Bridge is the fifth bridge over the river, the third oldest and the third stone bridge in the entire Prague. It is also the first bridge during whose construction a special method was used – a technique called caisson foundation pillars. Previously, bridges were built in open construction pits.
Its construction resulted from the need to create a new link with the emerging industrial Smíchov district. It was completed in 1878. Its neo-Renaissance appearance is the work of an engineer Josef Reiter and architect Frederick Münzbergr. This is a stone bridge made of multicolored granite blocks. It measures  228 meters in length and a little less than 14 meters in width after the expansion.
The bridge was first called "The Stone Bridge to Smíchov" or "Podskalský". It got its present name after the famous Czech historian, author and politician František Palacký.
Interesting fact:
Four monumental sculptures that adorned the bridge until as late as the 19th century were damaged by air raids in World War 2, now you will not find them on the bridge. But you can see these sculptures in the Vyšehrad gardens. These are the mythology inspired sculptures by the famous Czech sculptor Josef Václav Myslbek.