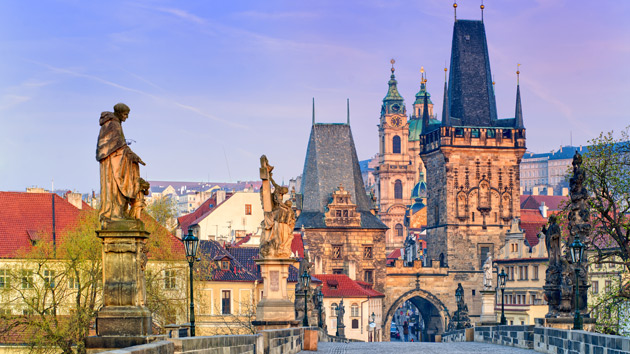 There are two towers on the left bank mouth of the Charles Bridge. They are called the Lesser Town Bridge Towers. The lower one, called the Judith, is of Romanesque origin and is probably even older than the Judith Bridge. It was part of the left bank fortifications and in the early 15th century it served as prison for the worst criminals. Since 1893 it has belonged to the city and is currently not open to the public.
A small house is adjoined to the tower, it is called the customs, and on the first floor there is a late Romanesque argillite relief, which was previously located on the eastern façade of the tower.
The second bridge tower, the taller one, was built in 1464 by George of Poděbrady in place of the original Romanesque tower. It's form resembles the Petr Parléř Old Town Bridge Tower. The tower has visible niches that were obviously supposed to be equipped with monumental sculptures. The tower, which formerly served as a watchtower and a warehouse, is now open to the public.
There is a gate between the two towers which serves as an entrance to the Lesser Town. The gateway was founded in 1411 on the site of the original Romanesque building.
Interesting fact:
To this day, there are disputes about the story and origin of the Romanesque relief. Probably the closest to reality is the theory that the people depicted are the Emperor Frederick Barbarossa and the kneeling King Vladislav, who is receiving a crown from the emperor.