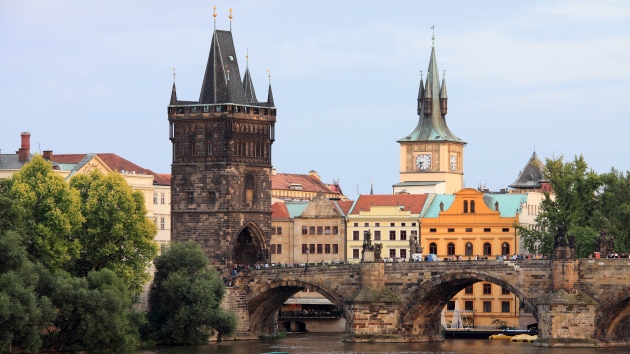 The Gothic Old Town Bridge Tower, which stands at the foot of the Charles Bridge on the right river bank is also from the smelter of Petr Parléř. The lower part of the tower was built during the reign Charles IV., and thus we can rightly assume that the seated statue of the ruler, which is part of the decoration, is the actual appearance of Charles IV. Among other statues is the seated Wenceslas IV. and sv. Vitus, the latter being the patron saint of the bridge.
The tower was built not only as a fortification, but also as a model for the national triumphal arch on the Royal Way, upon which Charles IV. coronation procession was led. At the top, representing the celestial sphere, are the statues of St. Procopius and of St. Sigismund.
You might be surprised why a wealth of sculptures is not to be found on the side facing the river. It is because many statues were destroyed during an unsuccessful siege of the Bridge by the Swedes in 1648.
The tower has the shape of a three-storey prism with a spire and high tent roof that covers the slate. To reach to the top you have to climb 138 steps, height is 47 meters above the bridge. The passage of the tower is arched by a unique Petr Parléř vault with a triple beam and a crown instead of the bolt. The first floor, second floor and a walkway on the roof are open to the public.
Interesting fact:
As a warning, in 1621, 12 heads of Czech lords were hung up on the tower. The Czech lords were executed at the Old Town Square after the suppression of the Estate revolt.