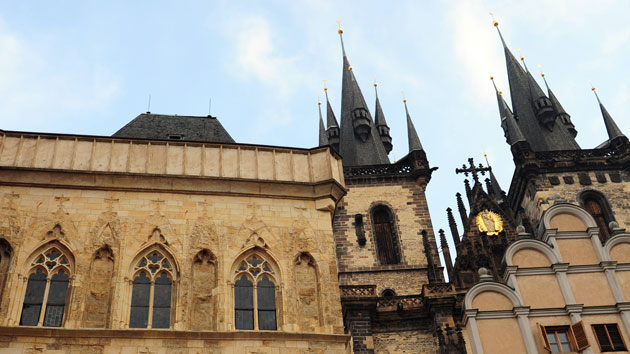 The House at the Stone Bell (Stone Bell House) is an unusually well-preserved example of Gothic palace architecture of a tower character. It is located on the east side of Old Town Square in Prague. Its history dates back to the second half of the 13th century. The oldest part was preserved in the basements and ground floor of the south wing. Due to the age of the building and its uniqueness, it is one of the most remarkable sights in Prague.
The house has a richly decorated Gothic facade made in the early 14th century, i.e. before the work of Petr Parléř in Prague. The building received the moniker of Stone Bell House only in 1417 thanks to its corner bell. The bell was placed here perhaps as a reminder of the historical events of 1310. It is said that Berenger, the chaplain of Elizabeth of Bohemia, used the bell to signal John of Luxembourg that he and his army could come for Elizabeth and thus occupy the Old Town without a fight.
The house was probably built as a palace for the royal family, i.e. mainly for Eliška Přemyslovná and her family. Although no written records survive, it is attested by the character of the sculptural decoration, which has survived in fragments.
In 1363 the house passed into the ownership of an old Prague burgher. Subsequent modifications to the house changed its Gothic character beyond recognition, especially the Baroque reconstruction in 1685.
Today's appearance is the result of extensive renovation in progress since 1961, when it was decided that the building would be returned to its original Gothic appearance. The work was very demanding and carried out slowly so as to avoid damage to valuable Gothic parts of the building. In front of the Old Town Square there was even a regular stonework smelter, probably the same as it was in the 14th century.
The reconstruction later removed three floors and added two Gothic ones. The Baroque roof was replaced by an original chisel-shaped roof, the bricked Gothic windows were reconstructed and original paintings restored.
The Stone Bell House was reopened in 1988. It is home to the Gallery of the Capital City of Prague and it holds temporary exhibitions of contemporary art and concerts. In the basement there is a lapidary with preserved fragments of the original structure.
Interesting fact:
Prince Charles, who later became Emperor and King Charles IV, probably lived in the Stone Bell House when he returned to Bohemia in 1333. Back then it was probably the only decent dwelling, as Prague Castle was not in good condition.