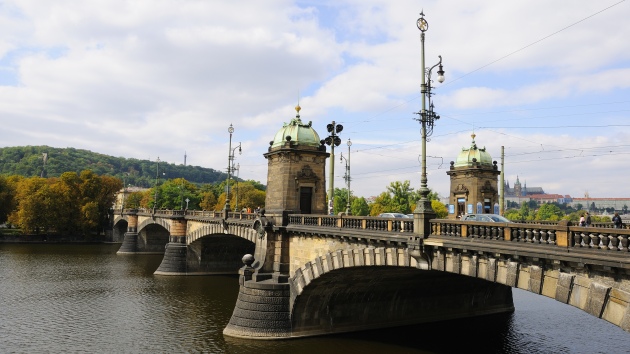 The Bridge of the Legions is the seventh bridge on the Vltava River It connects the Shooters Island with the Smetana and Masaryk Embankment.
Its construction was started in 1898 at the behest of the industrialist Vojtěch Lanna. The first bridge in Prague ever was built on the site of an original bridge – the chain bridge by Emperor Franz Josef I. First, the bridge was named Emperor Franz Joseph I., but since 1919 it has had its present name.
As for its artistic aspect, the bridge now has the Neo-Baroque Art Nouveau style. During the reconstruction of the National Theatre from 1981 to 1983 even the artistic decoration has undergone some repairs. The Legion Bridge is built of granite blocks and the length of 343 meters is divided into 8 flat elliptical arches and 1 round one. The width of the bridge is 16 meters.
Interesting fact:
The stone, used to build the bridge was originally of red, blue and white color, which was supposed to induce the national character of the building. However, over time, as the colors faded, the hue was lost.