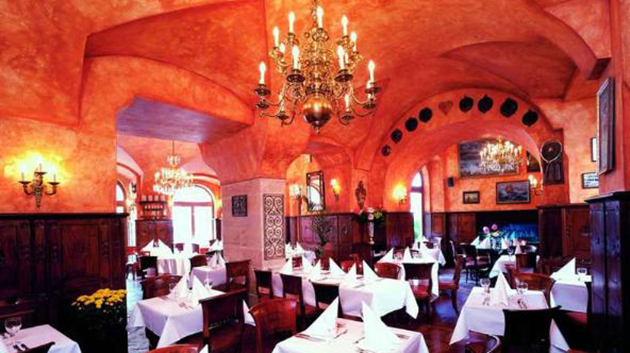 Tavern U Prince is quite famous and has been there for nearly 100 years. And even the present restaurant area and the menu itself continue this tradition. Here you can taste specialities of Czech as well as international cuisine. The gothic style, solid furniture and murals in the interior of the restaurant will take you to back in history, namely to the Middle Ages.
In summer the most popular place is the terrace from where guests can have a unique view of the historic centre of the city. Here the towers of the Hundred-Spired Prague are within your reach and you can enjoy the truly remarkable view of Prague Castle. The terrace is open in winter, too, as it is heated and sheltered from inclement weather. Everyone who has been here will certainly confirm that you cannot have a better view than from the restaurant's terrace.
The menu is full of delicious dishes and the wine list full of first class wines. And friendly staff is always ready to advise you on what dish would be most appropriate for you.
Opening hours:
Monday – Sunday: 
8 a.m. – 1 a.m.
Address:
Street: Staroměstské náměstí 29