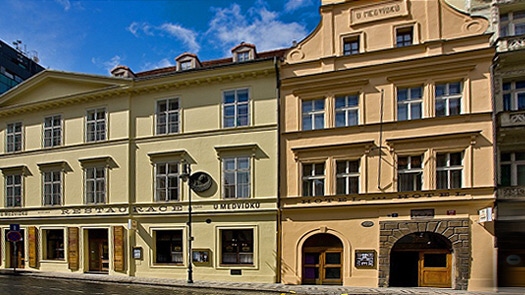 The U Medvídků restaurant and microbrewery are located in a historic building dating from the 15th century.  It takes its name from the first owner, Jan Medvídek, who founded the brewery in 1466. Brewing has continued here uninterrupted for more than 400 years.
During the communist era, the brewery was confiscated from the owner and fell into disrepair. It was returned to the original owners only after the Velvet Revolution. Brewing of the first new batch of beer was completed on 17 November 2004.
The U Medvídků restaurant and microbrewery is a Prague institution, frequented by both local residents and tourists, who like to try the Czech cuisine served there and drink excellent Budvar or beer from the microbrewery. You can also listen or dance to the folk band that regularly performs at U Medvídků.
The covered garden is heated and illuminated, allowing all year round use. It's now also possible to stay at U Medvídků, in our period style hotel. You can also visit the former malt house, which houses our gift shop, conference room and microbrewery, which we'd be happy to show you around.
Opening hours:
Monday - Friday:
10:00 - 23:00