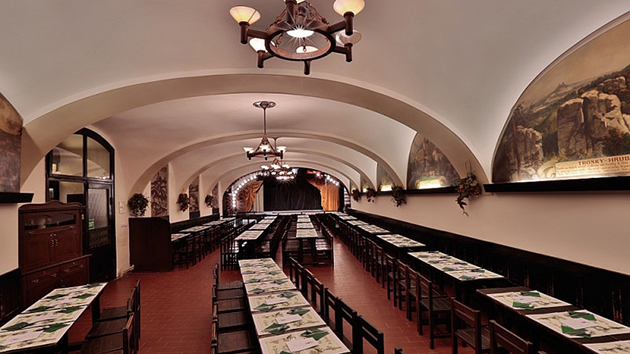 In New Town's (Prague 1) Křemencova street you can find the most famous and most visited brewery and restaurant U Fleků. It is a cultural sight that you should not miss as well as a visit to Prague Castle, Old Town Square, Vysehrad Castle, the Jewish quarter and many other sights that are hidden in the very heart of Prague.
The very first written record of the restaurant dates back to 1499 when the house was purchased by a brewer Vít Skřemenec to produce beer. This makes brewery U Fleků the only one brewery in Central Europe that has been brewing beer for more than 500 years.
Fans of good Czech food and drinks, and particularly beer, will certainly be delighted with this restaurant. The atmosphere of a visit is accented by space of the antique house, its interior decoration and stylish equipment of all the halls and guest facilities.
All diners, even the choosy ones, will be satisfied by the diverse offerings of dinning space. Traditional Old Bohemian dishes are prepared in a modern kitchen and the personnel will bring you anything to satisfy your wishes. If you want to enjoy delicious goulash, beef sirloin served with bread dumplings or golden-brown duck then definitely visit restaurant U Fleků where you can also have Flekovský tmavý 13° ležák (dark lager) with your meal.
You don't have to worry that the seating capacity in the restaurant would be full without your prior reservation. Eight halls and an outside seating are part of the Brewery and Restaurant U Fleků which provide enough space for up to 1200 guests.
Opening hours:
Monday – Sunday: 
10 a.m. – 11 p.m.
Address:
The Brewery and Restaurant U Fleků s.r.o.