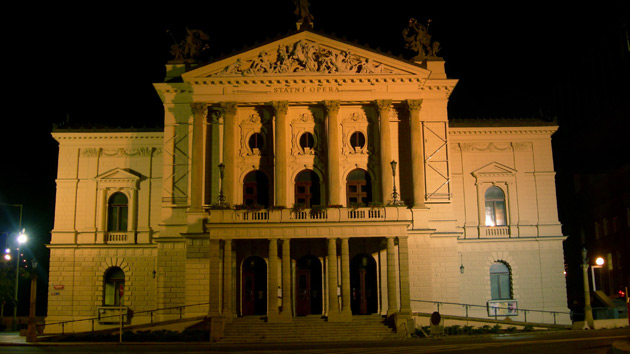 The Neo-Renaissance State Opera can be found in the New Town near the National Museum. The current building was preceded by a much simpler construction of the New Town Theatre, where productions were staged until 1885, when it was demolished.
A year later the architect Alfonso Wertmüller began construction of a new theatre based on the plans of a Viennese firm specializing in the construction of theatres. It was founded here as the New German Theatre as a prestigious stage for Prague citizens of German nationality. It was ceremoniously opened on 5 January 1888 with a performance of Wagner's Die Meistersinger von Nürnberg, presented by the German Theatre Association.
The 20th century brought many changes to the theatre. The theatre played an interesting positive role after the fascists took power in Germany. The theatre became a refuge for persecuted German artists. During the occupation it was called the Deutsches Theater. After the war it became a Czech folk theatre called the Theatre of May 5th. Subsequently, the theatre became part of the National Theatre and only in 1992 acquired the status of a separate institution called the Prague State Opera. Since 2012 the ballet and opera companies of the National Theatre and State Opera are once again in the process of merging.
The opera house, which was reconstructed in the years 1967 – 1973, has richly decorated facade busts by the sculptor Otto Mentzel, which depict Goethe, Mozart and Schiller. Furthermore, the tympanum contains 13 sculptures depicting scenes from classical mythology. The interior of the theatre was, on the other hand, partly conceived to commemorate the victims of fascism. There are busts of Josef Čapek, Julius Fučík, Anna Letenská, Bedřich Václavek, Vladislav Vančura and others. A plaque with verses by Stanislav Kostka Neumannn is also dedicated to this memory.
Interesting fact:
A number of world-famous stars have sung in the State Opera, among them Enrico Caruso and in 2011 George Michael. In 1910, the world premiere of Richard Strauss's Elektra was performed here.