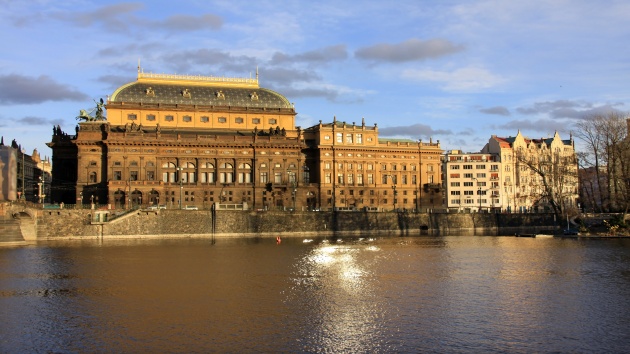 The historical building of the National Theatre stands on the right bank of the Vltava at the Masaryk Embankment. It is hard to miss for its golden roof. The building was aptly nicknamed the Golden Chapel.
The foundation stone of the building, to which the whole nation contributed financially, as well as the Emperor Franz Josef I, was laid on 1868, an event accompanied by great festivitiesd. The architect was then Josef Zítek. The National Theatre was inaugurated in 1881 with the premiere of Smetana's Libuše, which was conducted by already deaf Bedřich Smetana. However, just two months after opening, the building went into flames and was significantly damaged. Joseph Zítek had been criticized for neglecting the fire precautions, so the construction of new building was entrusted to his student, Josef Schulz.
On the decoration of this historic building participated many important artists of the 19th century; all of whom left a significant imprint on the Czech fine art of their time. We can find there the paintings by Mikoláš Aleš and by František Ženíšek. The curtain was created by Vojtěch Hynais.
The theater has three curtains - the first is an iron curtain, the second a red one, and the third a velvet one and unfolds manually. Above the curtains there is an inscription: "The nation to itself". The theater also boasts a powerful organ. The National Theatre is a national monument and is managed by a state institution of the Ministry of Culture.
Interesting fact:
The burnout of the first building of the National Theatre was considered a national tragedy. Commitment to build a theater again roused the nation to such an extent that only in 47 days a million gold coins were collected for its recovery.