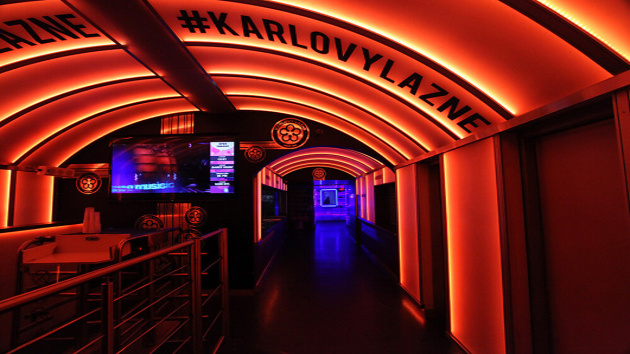 Karlovy lázně is located in the city centre, close to Charles Bridge. The biggest music club in central Europe, it also boasts some of the best sound equipment in the world.
The long history of the Karlovy lázně makes it unique. The club is housed in medieval buildings dating from the 14th and 15th centuries, and today, the partly preserved bath facilities and pools in the style of Roman baths serve as a dance floor on two levels. The blend of ancient and modern creates a special ambience that you will not find anywhere else.
The Music Club has 5 floors, each devoted to a different musical genre.
Mainstream: the lowest floor is all about "mainstream" music. The central videofloor, where you will find the Oxygen Bar, serves as a dancefloor and features LED panels.
Dance music: dance music fans will love this floor, and the special lighting and sound effects, including a "laser statue", "hypercube" and others, add to the great atmosphere.
Oldies: with a very nostalgic feel, this floor is devoted to golden oldies, and has a disco light floor, retro-style seating, a FogScreen, a Martini girl behind the water wall, and a DJ who plays in a Cadillac.
Hip hop and R &B: this level rocks to the beat of R & B and hip hop. As well as all the latest hits, this floor has a stylish seating area light walls and a 10m-long disco panel equaliser.
Chill out: a relaxing zone, where you can unwind later on. This entire floor is decked out in a neo-Baroque style, with a recently installed state of the art LED disco panel.
Opening hours:
Monday - Sunday:
11.00 a.m. - 11.00 p.m.