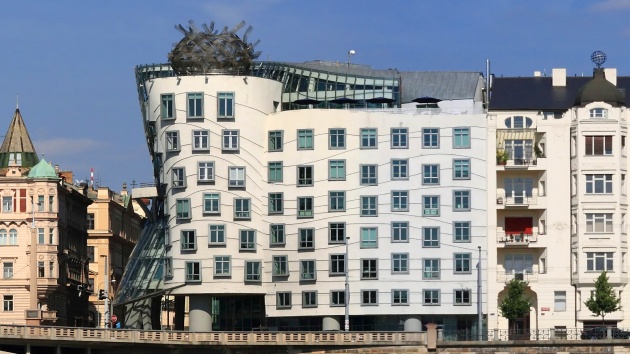 The modern building of the Dancing House can be found on the Rašín Embankment, and it is the last building thus closing up a row of elegant houses along the river bank. The foundation stone of the Dancing House was laid in 1994 and its construction was completed two years later. A Croatian architect, Vlado Milunič was chosen to design the building. To help him with the project he invited the world-renowned architect and designer Frank O. Gehry.
The name of the house, Ginger and Fred, is inspired by the famous interwar dancing couple Ginger Rogers and Fred Astaire. The male dancer is the stone tower with a dome on the top and the female one is represented by a glass tower. The building has won several awards, including awards in the category of design in 1996 in a poll of the American Time magazine. The building has 7 upper floors and 2 underground floors, and these days it houses offices, a café and a restaurant.
Interesting fact:
On the sight of today's Dancing House there stood a building, which was hit by American bombs during an air raid over Prague in 1945, when the night Prague was mistaken for Dresden.