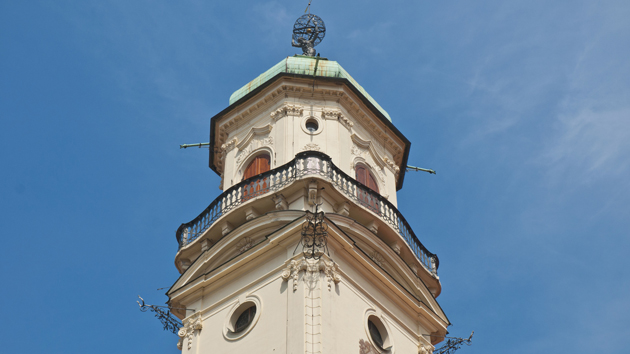 The Clementinum is located on the west side of Mariánské Square. It was originally built as a Jesuit college. The main phase of construction took place from 1653 to 1726. The building of the Clementinum was erected in the former Dominican monastery and took over the church of St. Clement.
The construction of the Clementinum is linked to major names of many artists, such as the builders Giovanni Domenico Orsi, Francesco Caratti, František Maxmilián Kaňka, Kilián Ignác Dientzenhofer and many others. Prominent sculptors and painters were also involved in the project, such as Petr Brandl, Matyáš Bernard Braun, Václav Vavřinec Reiner and others.
This early Baroque Jesuit complex was conceived as a magnificent structure, so that for centuries it did not need any major structural interventions. These came only in the 20th century. The complex included a school and later university, the library, refectory, and math and music hall. There was also a printing press. The total area of the Clementinum along with churches amounts to 19,041 m².
The Clementinum was also important for the development of astronomy and meteorology in Bohemia. Until the early 20th century, it housed the most important observatory in the country. It was in the Astronomical Tower. An asteroid, discovered in 1980 by a Czech astronomer, was named after the Clementinum.
The Clementinum today is the National Library. Its foundation goes back to 1622, with the relocation of the Charles College library. The library was founded only in 1781 and still occupies most of the space of the Clementinum and has branch offices outside the building.
The Clementinum complex has been undergoing extensive renovations since 2010, aimed at modernizing the building, but also preserving its historic character. It will continue to house the National Library, but will also newly contain a lecture hall, gallery spaces, bookstore and modern café. The reconstruction should be completed by 2016.
Interesting fact:
Since the mid-18th century, regular meteorological measurements have been taken in the Clementinum and their results have been systematically recorded since 1775. It is the longest continuous series of meteorological observations in the world.