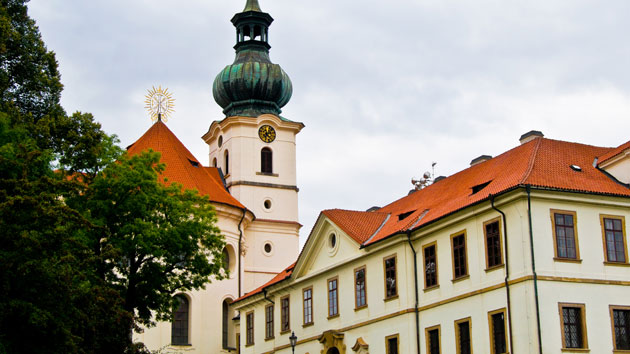 The Břevnov Monastery is in Prague 6, Břevnov. It was founded in 993 by Prince Boleslav II and St Vojtech as the first male monastery in Bohemia.
The name of the monastery comes from a legend according to which Prince Boleslav II met St. Vojtech at a spring in which lay a crossbar (břevno).
The monastery was rebuilt several times and plundered, until today's Baroque complex originated in the years 1708 to 1745. Its authors were Kryštof Dienzenhoferand his son Kilián Ignác, who also built the gate to the campus. The monastery complex also includes a granary, farmstead, abbey prelature and hospital.
The Basilica of St Margaret is also the work of both architects and ranks among the jewels of Czech Baroque building. The main altar dates from 1718, the altar paintings were painted by Petr Brandl and the side altars contain statues of Benedictine saints by Matouš Václav Jäckel. In the church you can still sit on the original inlaid choir stalls from the 18th century and the church organ is the original from the year 1725.
Adjacent to the church is a convent, which is from the years 1709 – 1720 by Kryštof Dienzenhofer and a prelature created after 1720 by Kilián Ignác. The Theresian Hall, named after Maria Theresa, is the most important room in the entire prelature. There is also a Classicist chamber, Pompey's Room, the Chinese or blue lounge, which formerly contained the study of the well-known abbot Opaska. The convent also has a winter refectory, sacristy, chapter hall, refectory, a billiard parlour and a library.
In the adjoining monastery garden stands the Vojtěška summer house. The garden is also famous for its legendary spring with a chapel, the source of the Brusnice stream.
After 1990, the state returned the entire Břevnov Monastery to the Benedictine Order and in 1991 it was declared a national cultural monument.
Interesting fact:
It is worth mentioning that this is the first church in Prague to receive the honorary title of Basilica minor, which was bestowed by Pope Pius XII in 1948. It is awarded only to exceptional cathedrals.