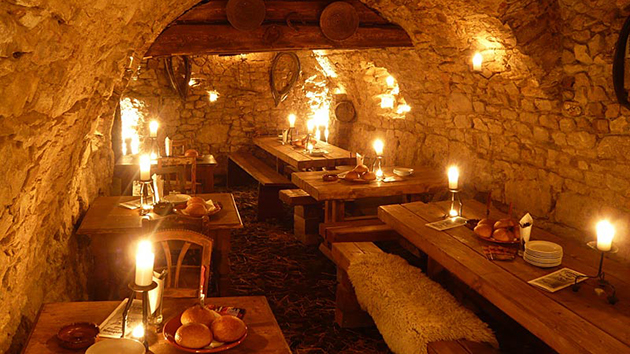 This is a tavern where Rudolphine alchemists, Jan Mydlář the executioner, Mozart and Jaroslav Hašek tippled as well as crooks and swindlers swilled which makes it one of the oldest restaurants in Prague. The inn was opened in 1375 and it is connected to many myths and legends.
In the restaurant U krále Brabantského you will experience something unparalleled. Prague's Old Town underground labyrinth is an ideal place for cultural as well as gastronomic experience. Those who want to look back into the times of jugglers, jesters, court ladies, ghosts and dancers while feasting on an Old Bohemian nosh-up should visit the restaurant from Tuesday to Saturday.
In the menu you can choose from dishes for the rabble, for instance a good piece of meat and some vegetables as well as something for your sweet tooth. You will be looked after by the waiting staff dressed in the period costumes that are always ready to toss some hunk of meat on your table.
If you want to return a few years back, have fun, dine as the rabble and dance and sing after you finish your meal, then this unique period restaurant is the right place to visit. It has been open daily since 1375 so you don't have to worry that the door will be closed when you arrive. 
Opening hours:
Sunday – Thursday: 
11 a.m. – 11 p.m.
Friday and Saturday: 
11 a.m. – 12 a.m.
Address:
Krčma U krále Brabantského