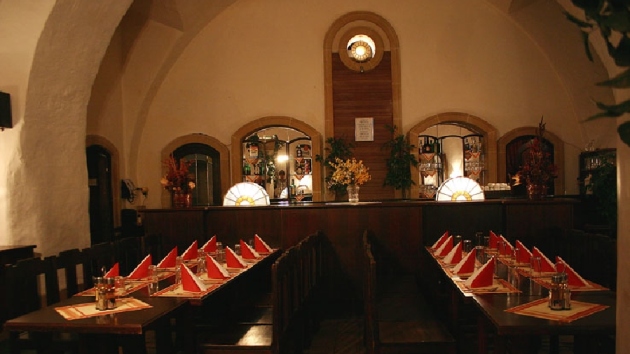 The U Černého slunce restaurant is located near Old Town Square and housed in the cellar of a historic building dating back to the 13th century. The Early Gothic ambience contrasts with the Prague Renaissance atmosphere of the restaurant's steak bar.
Some notable people have lived in the building. In the 18th century, it was the home of a woman whose daughter Josefina hosted Wolfgang Amadeus Mozart during his visits to Prague. Josefina became a renowned singer and married the famous composer and music teacher František Xaver Dušek.  
The restaurant can sit up to 160 people and welcomes tourist groups. We serve excellent Czech cuisine and specialities from our lava rock grill, as well as fine Moravian wines from Čejkovice and renowned Pilsner Urquell beer.
You can look forward to friendly and professional service.
Opening hours:
Monday - Sunday:
11:00 a.m. - 10:00 p.m.
Address:
Restaurant U Černého slunce