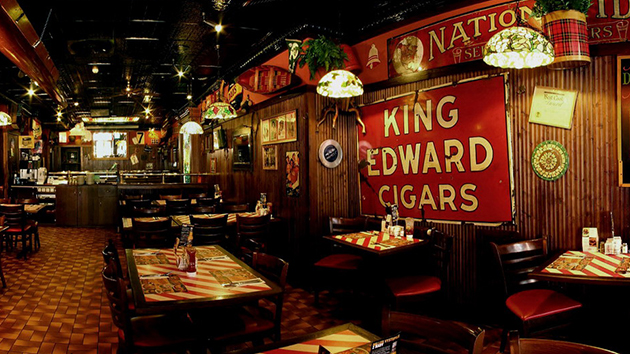 This is an iconic cocktail bar and an American restaurant. In Prague you can already find three branches where you can have authentic American cuisine or simply go for delicious cocktails which are served here by skilled bartenders.
The acronym T.G.I. Friday's means Thank God it's Friday which is also reflected in the original concept as well as current atmosphere of the American restaurants chain. Every day is Friday here.
T.G.I. Friday's was established by an American stock exchange businessman who, when finding out he had been single for a really long time, wanted to create his own space for meeting new people. The original concept of the restaurant and the bar was so successful that it began to spread all around the world. However, it hadn't reached the Czech Republic until the post-revolutionary era came about in which there was a lack of bars and restaurants and culinary art was still in embryo.
Only few people know that this restaurant is the place where world famous cocktails such as Cosmopolitan, Sex on the Beach and Long Island Ice Tea were created for the very first time.
Both meat-eaters and vegetarians as well as vegetable and light snacks lovers will be satisfied here. Now you can head to one of the three branches located in Prague. 
Opening hours:
T.G.I. Friday´s Na Příkopě
 
Monday – Thursday: 
11 a.m. – 12 a.m.
Friday and Saturday:
11 a.m. – 0.30 a.m. 
Sunday – Thursday:
11 a.m.  – 1 a.m.
Friday and Saturday:
11 a.m.  – 1 a.m.
T.G.I. Friday´s Karlova ulice
 
Sunday – Thursday:
11 a.m. – 11 p.m.
Friday, Saturday: 
11 a.m. – 11 p.m.
Address:
T.G.I. Friday´s Na Příkopě
 
T.G.I. Friday´s Karlova ulice