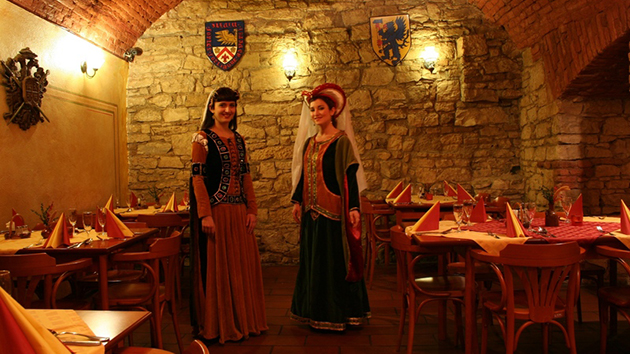 Restaurant "U Českých pánů" is located in the cellar of a historical building situated on the original foundations of edifices from the period between 1357 and 1360 which was implemented in compliance with the Founding Act of New Town of Prague issued by Charles IV on 8th March, 1348.
The interiors of the restaurant are decorated in medieval gothic style and owing to the size of the cellar area there is space for serving up to 100 dinners. In the menu there is something for everyone. It consists of Old Czech delicacies as well as dainty dishes of modern cuisine and all can be washed down with a fine golden drink.
The restaurant offers various types of beer. Served are Budweiser lager (12°) and dark lager (12°), Cvikl unifltered and other beer delicacies as Buweiser Premier (16°) or unfiltered wheat beer Primátor Weizenbier.
Opening hours:
Monday – Friday:  
11 a.m. – 11 p.m.
Saturday: 
12 p.m. – 11 p.m.
Address:
Restaurant "U Českých pánů"