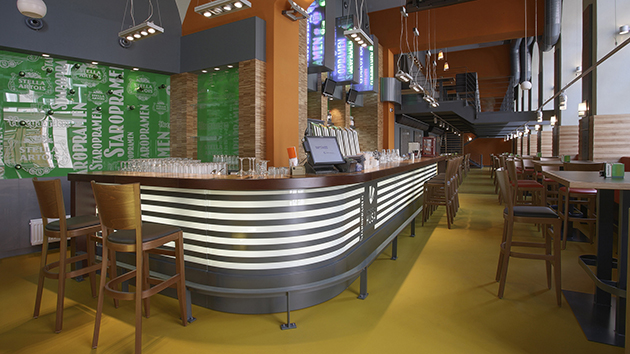 The establishment "Potrefená husa Hybernská" is the twenty-fifth restaurant opened within the Staropramen Breweries chain and simultaneously it is the largest "Potrefená husa" so far that can accommodate up to 200 visitors.
The restaurant is located in the very heart of historical Prague in Dlážděná street.  Due to its location its design and implementation had to be adapted to stringent monument preservation regulations, yet it was possible to create a completely unique space with three-floor layout.
The main restaurant is on the ground floor and from here guests can have a view of the street through display windows. A built-in gallery, where up to 35 guests can sit in privacy, shows up above the ground floor while the beer club is located in the basement. The outside seating is also open in summer.
The menu offers traditional Old Czech dishes as well as delicacies of the modern cuisine and the good news is (especially for the fans of the golden beverage) that there is a selection from up to seven different kinds of draught beer. After all, it is chain restaurant of Staropramen Breweries.
Opening hours:
Sunday – Thursday: 
11 a.m. – 12 a.m.
Friday – Saturday: 
11 a.m. – 1 a.m. 
Address:
Restaurant "Potrefená husa Hybernská"