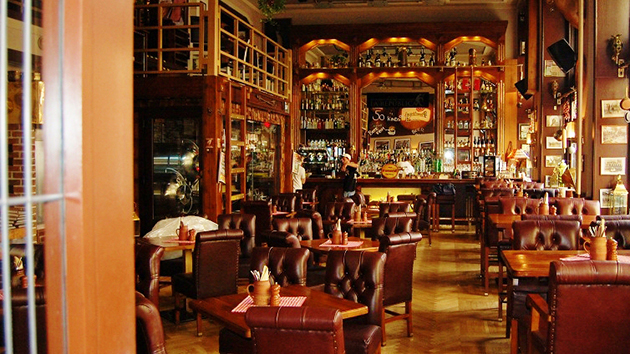 This restaurant is in the style of the First Republic and enjoys primacy due to its highest bar – it is 6 metres high, and it is a place where there are so many kinds of beer served that you will hardly manage to try them all during just one night.
The interior of the restaurant is decorated with massive wood furniture custom-made in Indonesia. Total capacity of the restaurant is 230 seats.
The rear section of the restaurant is called a ballroom and here you can dance to live music from Tuesday to Saturday.
The menu features traditional Old Czech, Austrian as well as Hungarian dishes which can be ideally completed with good beer.
Delicious food and beer, nice interior, unique bar, friendly waiting staff and atmosphere of the First Republic are the best combination that will certainly impress you.
Opening hours:
Monday – Thursday: 
7:30 a.m. – 0:00 a.m.
Friday:
7:30 a.m. – 1:30 a.m.
Saturday:
9:00 a.m. – 1:30 a.m
Sunday:
9:00 a.m. – 11:30 p.m.