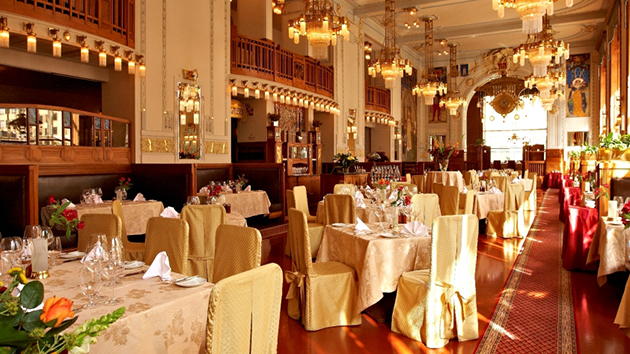 French restaurant Art Noveau spreads on the entire right side of the northern wing of Municipal House, the respectable symbol of the Czech culture. The prestigious exclusive restaurant of high quality in the architectural style of Prague's Art Noveau is highly appreciated by experts. It is frequently visited by lovers of good food and music owing to its fine cuisine and unique atmosphere intensified by jazz and piano music.
The restaurant is brightened by its beautiful original windows and the whole atmosphere is completed by rich stucco decorations and massive quality chandeliers which dominate large flat ceiling. Furniture of the restaurant as well as wall panelling, booth dividers with upholstered seats, radiator covers and dressers are all mostly original.
Gourmet experience in French restaurant Art Noveau is guaranteed by a team of chefs with an original approach towards gastronomy and sense of harmony.
Opening hours:
Monday – Sunday: 
12 p.m. – 11 p.m.
Address:
French Restaurant Art Noveau

 
Street: Náměstí Republiky 5