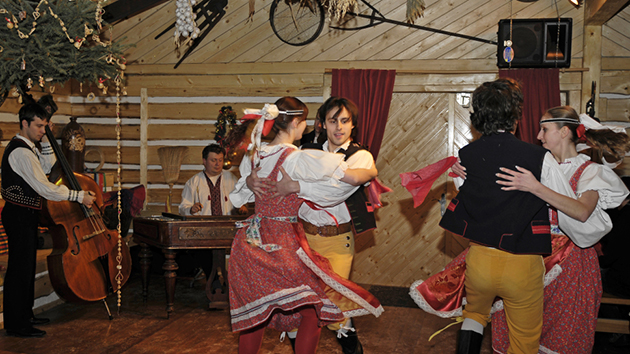 Only in the restaurant Folklore Garden can you experience a traditional Czech folklore evening as well as a delicious dinner. The entertainment of the evening will be created by dancers and musicians of a great folk company dressed in folk costumes. They will teach you how to dance to folk songs which you can also sing along with.
Traditional Czech dinner is served in the course of the entertainment and each guest also has unlimited amount of beverages. All this takes place in a beautiful little folk house with a capacity of up to 120 people. Outside seating, set in a beautiful garden surrounding the castle, is available in summer. There are up to 320 seats available when the outside seating is open.
The atmosphere of the whole evening and folk traditions is even further accented by the interior and its decorations. 
Opening hours:
Monday – Sunday:  
8 p.m. – 10.30 p.m.
Address:
Restaurant Folklore Garden
 
Street: On the corner of streets Na Zlíchově & Nad Konečnou
 
Town: Prague 5 - Hlubočepy