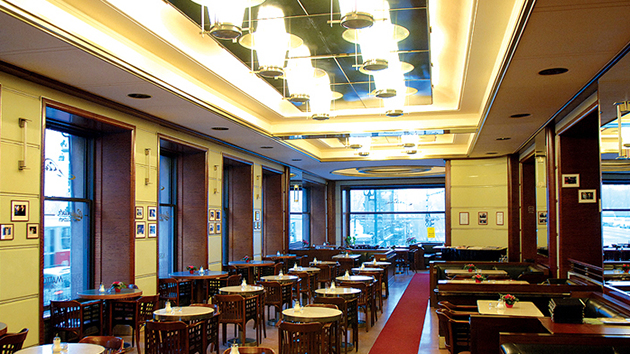 This is one of the most famous Prague cafés located on the right bank of the Vltava River on the corner of Národní třída and Smetana riverbank opposite the National Theatre in Palace Lažanský.
The name of the café is inspired by the idea of Czech nationalism and pan-Slavism. The café was opened on 30th August, 1884 and among its most frequent visitors were culture-loving people heading to the opposite National Theatre. Famous actors, directors and theatre performers were among other guests for the very same reason, too.
The café transformed its style into French Art Deco during the First Republic and has kept this style until now. Large windows that brighten up the café also provide a beautiful view of Prague Castle, Lesser Town and the Vltava River.
The café is also famous for its image representing absinthe drinker but only few people know that this picture was used only as a substitute for a an image of Slavia, mother of all Slavs (her name was given to the café), which has actually been relocated to the City Gallery.
Due to its rich history it is one of the places that everyone should visit at least once to take in the charm of the First Republic and history that will welcome you at its entrance. 
Opening hours:
Monday – Friday:  
8 a.m. – 12 a.m. 
Saturday – Sunday: 
9 a.m. – 12 a.m.
Address:
Café & Restaurant Slavia, a.s.
 
Street: Smetanovo nábřeží 1012/2